Dear Fellow Readers,
As I promised in my past blog post, I will be talking about my experience at Draper University in more detail.
In the past five and a half weeks as a student in the DU Summer 2014 Class, I can proudly say that I have done over 20 different things that I had never done before! Some of things included: graffiti painting, go-karting, and approaching random people in the street to get a job.
The activities that I participated in at Draper University were geared towards challenging you to move beyond your comfort zone. Read on to find out about those activities:
Our very first assignment was to write a bucket list of 101 items that we wanted to achieve in our life. This was a great exercise because it helps you think about why you were put on Earth, as well as the biggest priorities in your life.
The next day, we were assigned to our teams. No one knows how the teams are decided, but I think it had to do with the Belbin Assessment test that we took earlier that tells you what type of team member you are. My team consisted of (left to right) me, Erin, Nick, Cival, & Vicky. I'm lucky to be part of this team because everyone was super talented.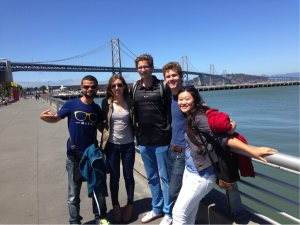 Then we were asked to go on our first outdoor team bonding activity: a scavenger hunt. We had to go explore the city of San Mateo, but there was a twist. You'll have to come to Draper University to find out what that twist is. Just kidding. We had to take photos with eccentric people, search for old stamps, make bargains, and take a crazy video of the team dancing in the street. Watch it here: Dancing Video
Next week's theme was Creativity. Yes! I did this graffiti drawing. Well, part of it :). We learned the history of graffiti painting and got an overview of great graffiti painters in history. We also spray painted the whole wall with a line from Draper University's Superhero Oath: "I'll promote freedom at all costs."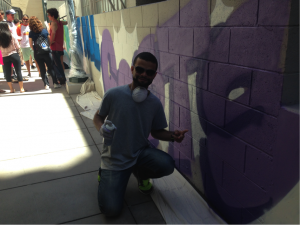 When the first weekend came, I thought we would get some rest. Nope. Didn't happen. We had to work hard during the weekend to prepare and deliver a pitch (and an MVP) for the first Draper University Hackathon. The hackathon was themed around world problems, including education, healthcare, government, currency & power.  I teamed up with this incredible team of Sarah (China), Liza (Mexico) & Fay (China). Our idea was based on Liza's startup back in Mexico: an iPhone app that enables the camera phone to analyze, process & diagnose cancer cells from a microscope. We had a great presentation and working demo. Interesting stuff huh?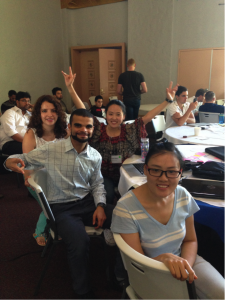 The next day we were asked to do an Egg Drop Challenge. And yes, it's as messy as it sounds! We had one night to think about how to drop an egg from the rooftop of the 8th floor of the Draper University building. We were supposed to use as few items as possible. Here are some of the parts we were allowed to use:
– Straws
– Plastic Bags
– Condoms!
– Tape
– Cups
It was amazing to see all the different variations concocted by everyone.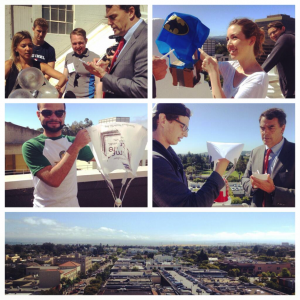 Next weekend we did something completely new: we went go-karting. Got an adrenaline rush? Those karts were really fast! We had a chance to drive the small karts and drive like a professional track for 8 laps. Competing with each other was so fun!
Bottom Line
As fun as Draper University may seem, it is a serious entrepreneurship program too. Two to three speakers came to present everyday. We had to give speeches about various hands-on topics. We had to do weekly assignments and daily presentations (solo and with your team). Along the way, you incrementally build up a business plan while getting help from mentors in various fields. On the final day of the program, we had the opportunity to pitch our business plan to a panel of 30+ investors. Overall, this was one of the best experiences in my life. Thank you Draper University for making this happen!