Hey Folks,
I was just able to take some time off work, which is the longest I was able to take since over 4 years! And decided to spend those 2 weeks backpacking Europe with my good friend and college colleague Tamer.
Me and Tamer knew that we wanted to make the most out of those 2 weeks, by that we meant, visit the most countries, try the most cuisines and go crazy with all outdoor activities.
For me, I also wanted to tick as many items as I could off my bucket list and catch up with my old European friends.
The Schengen
We started planning only 3 weeks in advance, first step was to apply for the EU Schengen visa
I managed to get a visa appointment in the embassy of Spain in San Francisco, and Tamer got his in Switzerland's in Cairo the day after.
In order to pass the visa interview Tamer had to plan for the route, cities & countries that we intend on visiting. The plan seemed totally unrealistic and insane. We said let's aim high and see how it goes from there.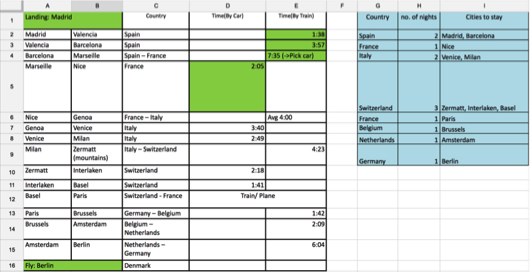 After then we had to show proof that we have hostel reservations, transportation method and flight tickets.
Booking.com
 & 
hostelworld.com
 didn't fail us in getting refundable reservations (Which we had to alter a bit and fix the dates after getting our visas) and for transportation, 
Eurail – Global Pass
 which was a bit pricey but it was the best thing ever! (Read on to know why).
We got our visas, and we were ready to go!
The Backpack
At that point I was super pumped, my 26 years old dream is coming true. So it was time to prepare my hump.
I ordered the 
JanSport Equinox 50 Pack
, bought a waterproof nylon & down jacket which was very light, compact and warm in all places I visited, got a pair of Vibram 5 toe shoes that held up very well and were the best comfort for long walks (I'm talking about 15 miles a day!) also it brought me many interesting conversations with random people, and everybody was taking photos of my feet! A light microfiber towel (Remember: Hostels don't provide towels), 4 short sleeve t-shirts, 1 hoodie, neck pillow (Very Important!) and a hydration bladder.
My flight took off on the early chill morning of October 31st, from San Francisco, with a short layover in Chicago and then direct to our first destination, Madrid, Spain.
November 1, 8 AM, I ticked my first item in my bucket list which is to visit Spain. Got off the airport to find my beautiful friend Lenbe waiting for me. We haven't seen each other for 7 years after spending 2 weeks studying together in Cheltenham, England. I was so excited to see her after that long! Lenbe looked so tired since she celebrated hard a Halloween party that last night.
After getting to Lenbe's car, she pulled off her phone and opened a note saying (Shedo's Visit) with tons of things she wanted to show me in the that short trip.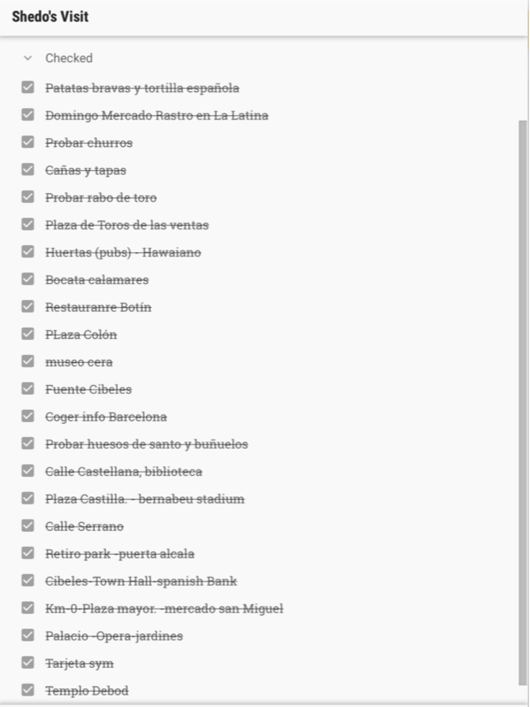 She said, venga venga, we have no time to waste. So we starting by going to castles and walking along downtown Madrid and the old market.
Later that day Tamer's flight arrived so we met him at the metro station and headed to get lunch.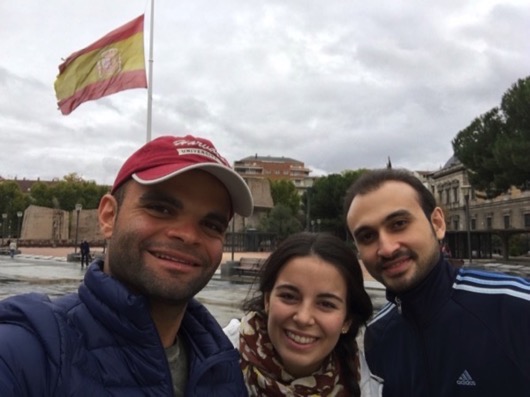 Give me more Tapas!
We headed to a very authentic restaurant serving Tapas. The restaurant offered a very cool dining area underground. And there I ticked another thing on my bucket list, which is to eat an exotic meat. We got Croquets of bulls tail (Croquetas de rabo de toro), potato tortilla, cheese.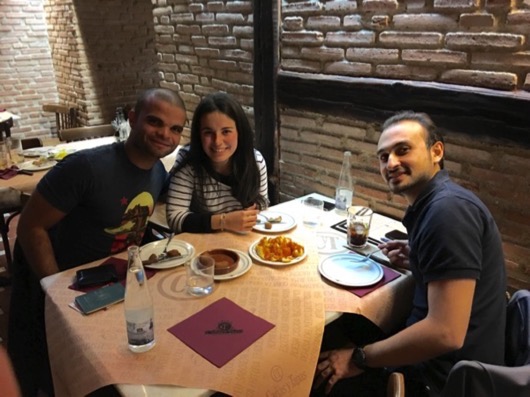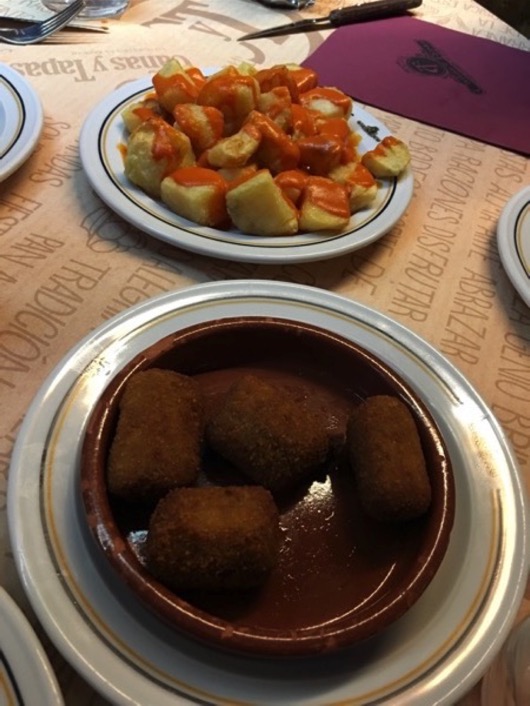 Ollaaaayy!!
I have been always fascinated about the Spanish culture, art and music. So we ran to watch a flamenco show in one of the best flamenco dance bars in Madrid.
After then Lenbe took us to her favorite drinks bar, the coolest I have ever been to, that has flying birds all around and offered excotic Hawaiian cocktails. Met up with Carlos & Ana, Lenbe's awesome boyfriend and best friend respectively.
Next day we had until noon in Madrid before our next train, so Lenbe welcomed us with traditional Spanish sweets and took us to new places like, Real Madrid stadium, had lunch at the earliest restaurant in the world started in 1725 called Restaurant Botin, ice cream at her favorite place on a rooftop and a lot more…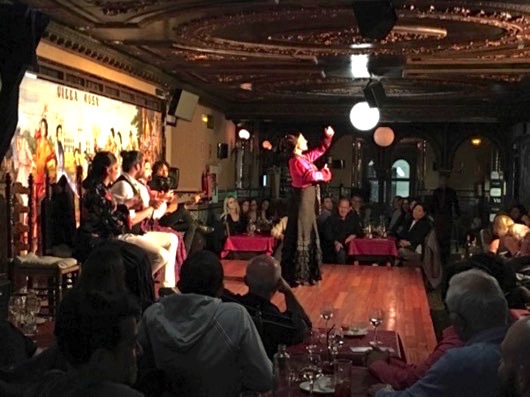 Barca Barca…
After warm goodbyes to my good friend Lenbe, we took our first train to our next destination, Barcelona.
We decided to take the open bus tour in Barcelona since we knew there are many things to do in there and we only had one day. That was not a bad option at all.
Next day we took the first TGV train ride  heading to Montpelier, France. That train goes up to 320 KM/H.
Oh ma Macarons!
Although it might not sound like a well known touristic attraction in France, but I loved it the most. Why? Cause it had a bakery shop very close to the train station that serves THE best Macarons I have ever had!
We only had like 6 hours to spend there so we walked around, saw different parks and old buildings and tried different desserts and headed back to our next destination, the beautiful Nice, South France.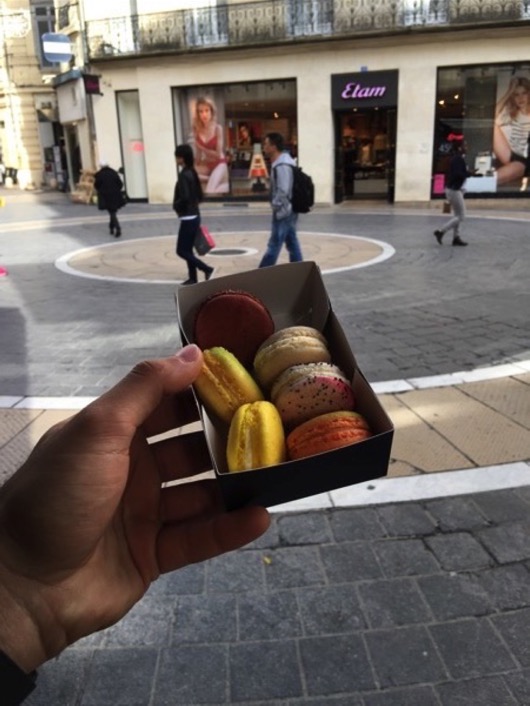 Who moved my Pizza!
Our next train was heading to Genova, Italy. Visited main things over there, ate lotta Pizza, Crepes and delicious bakings. Then headed to Milano for like 6 hours, repeated the same thing. Then there was our last train to our final destination in Italy, Venice.
Where did I put my Gondola?
Darn it! Did I just miss my train stop!
Facebook, my life!
After then we took the 5 AM to get back on track to the gorgeous Zermatt city.
Hiking the Alps!
I know I'm ready when I'm not!
Thanks god, I melted some ice to drink water, energy bars and light were so handy too! We finally reached the bottom, and we were both so freaking sore!
What did you just say? Jungfrau?
Next day hiked for a little bit, met the cutest cows, took the most scenic ferry ride I have ever been to and did I mention, Switzerland sells Cannabis extract Ice tea cans in all vending machines for 2.80€ ?!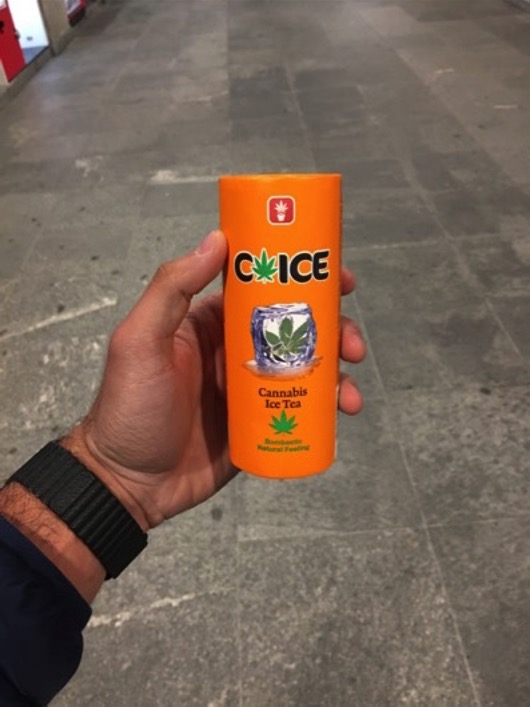 My cheese is on fire!
The city of love.
At that point we were done drifting diagonal at south Europe, so we began heading north. First stop was Paris, back to France.
After goodbyes with our Oklahoma hostel's super cool roommate Jennifer we headed further up to Lille, France and then to Brussels, Belguim. We spent couple of hours in each wandering around the main attractions beside the train station. Then were too excited not to miss our next destination, Amsterdam, Holland.
Get me high!
Döner addict!
Tamer's last stop, was coming next. His visa got issued for only 12 days so he had to leave 2 days earlier than me.
We arrived Berlin, Germany at around 8 PM. Rented a car from the train station. Then I hit up my good old friend and great iOS developer Mohamed Fouad. Last time I stumbled upon Fouad was about 2 years ago in Istanbul, Turkey. Kindly enough he offered us a quick tour in Berlin, and stay at his big room along with his awesome roommate Mohamed Salah. We also met up with our colleague Hassan who just moved to work in Berlin.
We ate a lot of Döner, the best I ever had! Drove past Berlin Wall, and couple of main attraction and a park.
Could you please drive faster!
Next day, Salah got us a great breakfast then accompanied us to the Berlin Wall and then it was getting close to Tamer's flight. Of course we didn't want to miss putting our car's engine to it's limits and drive by the no speed limit highway Autobahn‌. I hit 206 KM/H.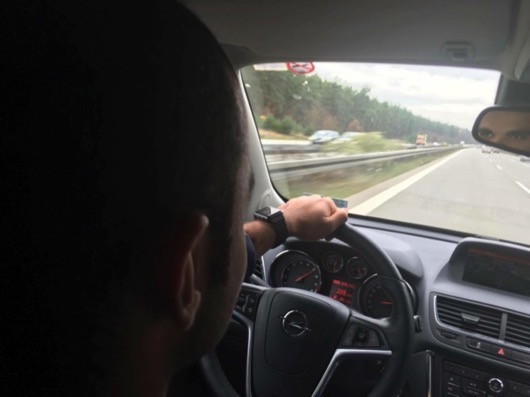 Spin the wheel!
Tamer has left me on my own for the next two days, had to figure out where my next journey should be. Decided to visit a new country that speaks new language and has a different currency. Prague, Czech Republic was it!
Arrived the coolest hostel ever, called One Home. Everyone was sitting on one table having a home made complimentary dinner, and was offered to have a seat and join the conversation.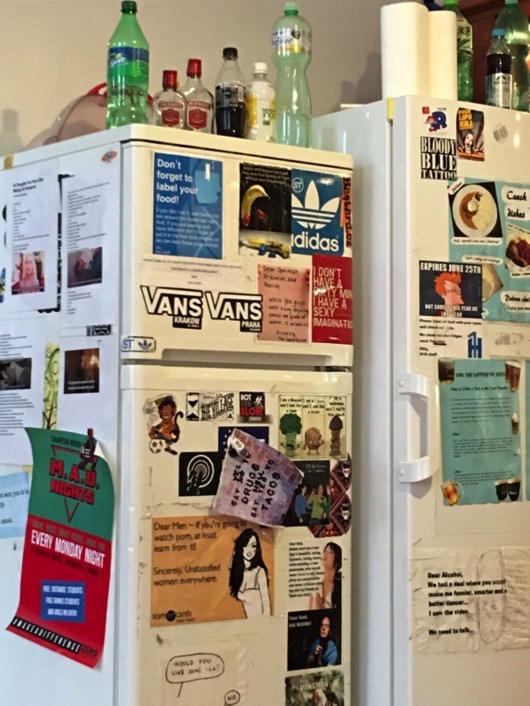 Trdelník Orgasm!
Dropped my backpack and got off to look around Prague's main interest point. Started with the old town square. There I was welcomed with Trdelník. My mouth waters when I try to explain it to anybody.
Basically it's a crispy rolled dough pastry coated with sugar and cinnamon from outside and filled with Nutella chocolate from the inside. Enough said!
I then walked to the Charles Bridge, Prague Castle and Beer Garden. It was about 1 AM when I got followed by a creep, so had to run back and call it a night.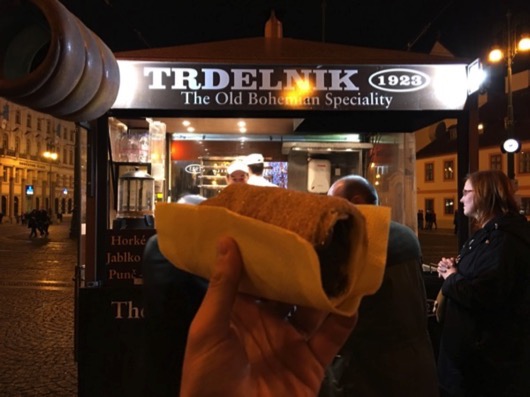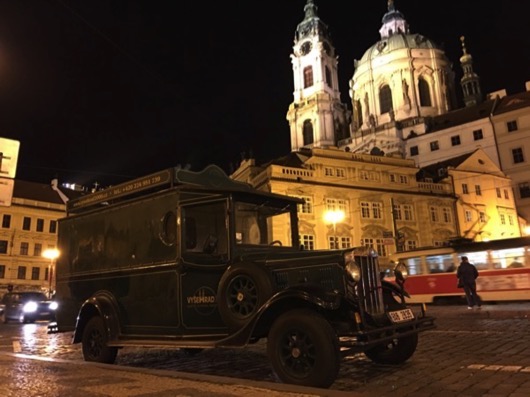 Let's party hard!
Woke up the next day to one more Trdelník and more wandering, ending it up at a beautiful swan river.
Then took my first cross country bus to my final destination. Munich, Germany. Visiting Englischer Garten Park, Marienplatz and Deutsches Museum.
By then it was the end of my awesome Europe backpacking trip, totally exhausted but accomplished.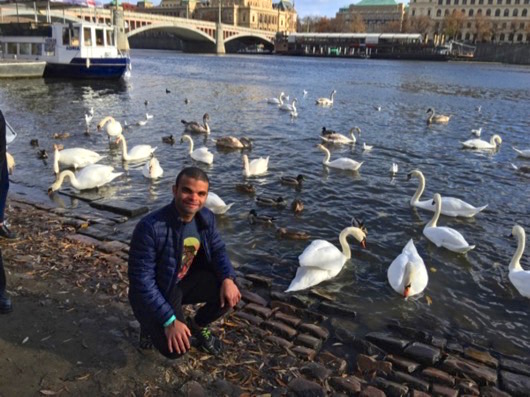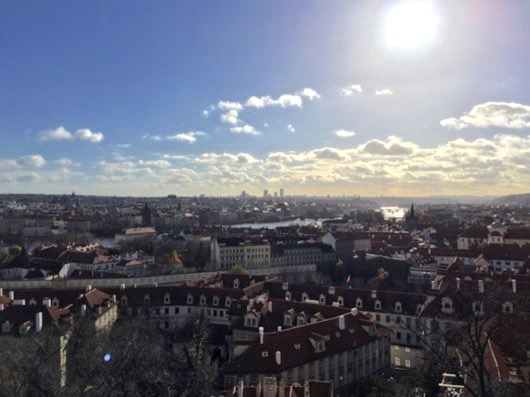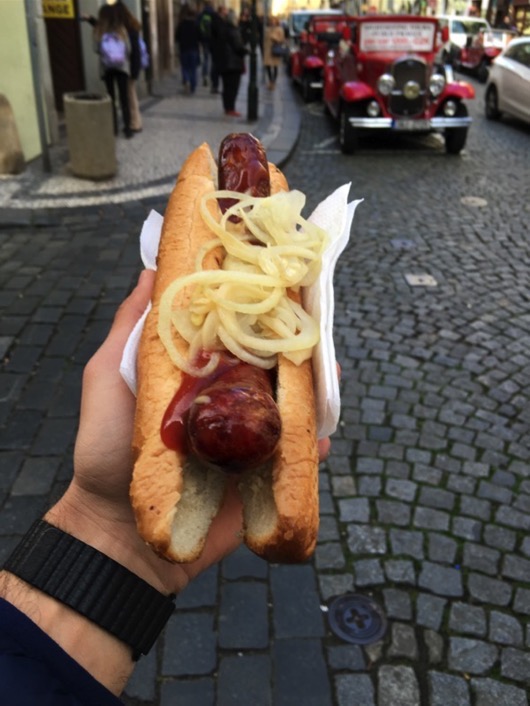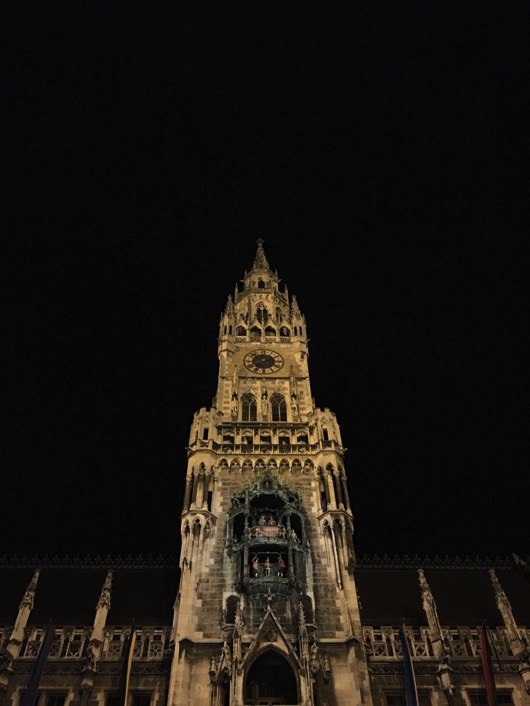 The summary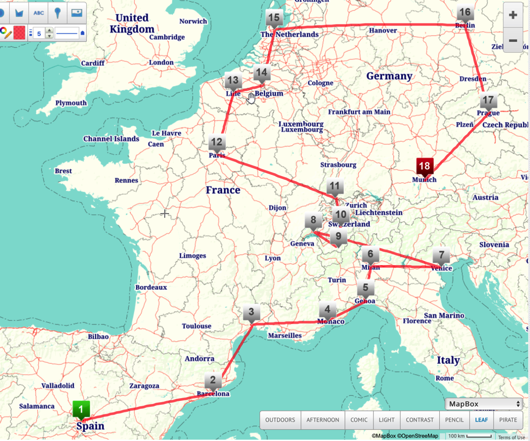 21 trains, 1 bus and 1 boat
The takeaways
Never stop travelling.
Nothing is totally wrong nor right.
You should seize every opportunity.
How rich you are is determined by how many people you know.
Make mistakes, and learn from them.
Don't go cheap, go smart.
Don't be judgmental, accept all people.
The Bucket list:-
Visit Spain.
Backpack Europe.
Eat an exotic meat (bull's tail).
Watch a flamenco show.
Ride on the speed train TGV.
Drive along French Riviera Coast.
Hop on the boats of Venice.
Hike half naked in the snow.
Hike Alps mountains (Reiflberg – 6 hours).
Drive max speed on autoban (Opel – 206 KM/H).
The Cities:-
11/01 Madrid
11/03 Barcelona
11/04 Montpellier, Nice
11/05 Reveira (Monaco, Canne, Antibe)
11/06 Genova & Melano
11/07 Venezia & Lausanne
11/08 Zermatt
11/09 Interlaken & Launterbrunnen (Jungfrau)
11/10 Basel & Paris
11/11 Lille, Brussels & Amsterdam
11/12 Berlin
11/13 Prague
11/14 Munich
Total: 20 cities
The Countries:-
Spain
France
Italy
Switzerland
Belgium
Holland
Germany
Czech Republic
Please don't hesitate to ask me any questions. Would love to share my experience!